Description
PLEASE NOTE THIS GRIPPING AID IS FOR THOSE WITH FINGERS/HAND PARTS MISSING ONLY!
The Limb Difference gripping aid is designed for users who have a limb difference affecting their hands or fingers. This may include those with dysmelia (conditions from birth), or those who have sustained a limb difference later in life. Our Limb Difference gripping aid is perfect for those who have some or all of their fingers, or parts of their hand, missing. As long as you have at least some widening at your wrist our grip should work for you (A wider section of the wrist is required as an anchor point to transfer the pulling force to, when using the gripping aids).
Use your Limb Difference aid for a wide variety of activities including accessing equipment in the gym, kitchen or garden, holding the handlebars of a bike. They are strong enough to be used for weight lifting.
How the Limb Difference aid Works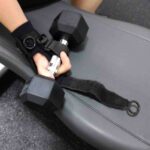 The Limb Difference aid has a double-strap system. First, fasten the wrist section. Next, use the inner velcro strap to fix the item you wish to hold in your palm into place. Then, use the longer strap to hold it firmly in place. This longer strap comes over the back of your hand, through the buckle and back over the object
Will they work for me?
There are three sizes of Limb Difference aid, you need to select the one that best matches your wrist and hand size. See our size guide (in tab above) to find out which size is best for you.
If you have most of your fingers you may find that our General Purpose Aids would suit you better.
The limb difference aids are available in left or right. You will need to purchase the correct aid or it will not comfortably fit your wrist/hand.
Instructions showing how to put on your Limb Difference aid can be found here.
More about Active Hands Gripping Aids
The Active Hands gripping aids gently, yet firmly hold your hand into a gripping shape enabling you to hold tightly onto objects from hammers to garden tools; gym equipment to drumsticks; ski-outriggers to boat tillers; adaptive bike handles to musical instruments; and many more.
Their gripping aids are designed so that the user can put them on independently.
They are ideal for tetraplegic/quadriplegics, those with Cerebral Palsy, stroke recovery or any disability that affects hand function. Some of our products are also suitable for those with limb difference
Popular used include :
-Tools like hammers to gardening tools
-Sports equipment like paddles, bike handles, rackets, bats and gym equipment
-Musical instruments like drum sticks
-Cutlery and Writing equipment 
Anything that requires strong hold with a fist!
The General Purpose Aid functions by the tightening of a strap in the upper section, which gently pulls the hand into a fist shape, adjusting to hold items in the palm. The wrist strap is also adjustable and the aid is padded to reduce chafing.
Aids are machine washable, and padded for extra comfort.
20% discounts automatically applies when you order 2 or more aids!
 Which size?
Please note Large are not presently in stock and will be ordered in on demand - eta 4 weeks from order
| | | |
| --- | --- | --- |
|   | Wrist to middle fingertip | Wrist circumference |
| Large | 195-280mm | 180-220mm |
| Standard | 175-210mm | 145-185mm |
| Small | 135-185mm | 135-155mm |
| Mini | 120-140mm | 120-140mm |